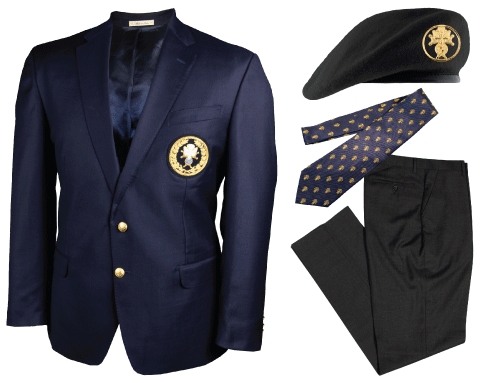 Knights of Columbus Executive Fit Uniform Package
UPC: 720345491621
SR#: KOC-PKG-02
Uniform Package™:
$449.00 USD
Official Regalia of the 4th Degree Uniform Package Features and Details:

• Blue Blazer with 4th Degree Crest and Emblem of the Order Buttons
• Official 4th Degree Gray Trousers
• Official 4th Degree Hand Embroidered Necktie
• Official 4th Degree Black Beret with 4th Degree Badge
---
The Knights of Columbus regalia is to be worn as you would a business suit. The beret is worn with the 4th degree metal badge placed directly over the left eye. The right side of the beret folds down toward and over the right ear. 
---
Once you receive your Knights of Columbus Package, please take it to your tailor for professional finishing. Trousers come with an unfinished hem. 
---
Please visit a local tailor for measurements prior to ordering, this will help to ensure that you are selecting the correct size. 
PACKAGE OPTIONS